Entertainers in Victoria, BC
Do you need other party or event ideas? We can help. As a complimentary service to our customers, we can do the leg work if you need other services such as face painting, magic clown, stand-up comedian, juggler, and more. Just let us know what you need.
Here is a (growing) list of our friends in the industry:
Comedy Stage Hypnotist
Scott's hypnotic eyes amaze and mezmerize his subjects on stage as they become the stars of the show. A former academic teacher and career counselor, Scott had more fun hypnotizing his students than teaching them so he decided to take his show on the road full time. After first performing for his co-workers at a staff wellness conference, Scott found his calling amazing audiences everywhere with his wildly entertaining comedy hypnosis! Join Scott Ward in a fun-filled hypnotic stage show that keeps you wanting more!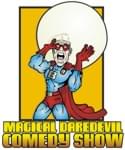 Daredevil Comedy Show
James Johnson is a hilarious Comic Crazy Man who specializes in high energy interactive comedy stage shows, delivering rapid-fire comedy with unique magical effects, hilarious comic routines, astonishing daredevil stunts, knee slapping music, and lighthearted audience participation. It is extraordinary entertainment from beginning to end; an unforgettable event of fun and adventure.